Tirana International School
February 7, 2018
Important Dates
February 
7 - Open House for New Families - 5:30-7:00 pm
7 - Success Orientation Program on Trustworthiness
8 - CEESA HS Robotics Travels to Bucharest 
12-16 - Math Week
16 - 100 Days of School Celebration
19-23 - Mid-Winter Break - No School
28 - MSA Planning Team Meeting 3:30
March
1-4 CEESA Swimming Trip to Bratislava
1 - PSG Meeting in Cafeteria 8:00 am
7 - Teacher Appreciation Day
Director's Desk
Dear Parents and Friends of TIS,
Over the last months, we have sent out a couple of surveys that ask your opinions regarding the education your child receives, cafeteria, busing, and other issues.  Your feedback has been very helpful as we are considering our goals for the future of the school and how we can best meet the needs of a changing community.  One important part of this planning is for our re-accreditation through the Middle States Association of Colleges and Schools (MSA).  Our MSA Accreditation is internationally considered the gold standard for schools that seek to have an outside body confirm that our program, facility and finances are at an exceptionally high level.  In 2019 we will have a visiting team from MSA on campus for several days as they weigh out our commitment to excellence and to what extent we are meeting the needs of students.   Naturally, a large part of this process is hearing from you and creating plans that will meet your needs.
Although there is always a danger of falling into "survey fatigue" we are asking that you take one final survey this year.  This questionnaire, officially created by MSA, will take about 30 minutes to complete and will address several areas of the school.  We ask that you let us know what we are doing well, but also to mark growth areas for the school.  Comments are appreciated.  This week, we had 50 staff complete their own version of the survey and today 90 students finished their version.  Make your voice heard by completing the survey today!
After we have all of the results, the entire community will meet together in April for a day of reflection and planning for the next 10 years.  We will keep you informed as plans unfold.
Looking Forward,
Robert S. Jackson, Director
Gala Event - April 21th
Last year TIS organized an amazing event to celebrate the 25th anniversary of our school. We would like to know if you would want to repeat it and have another gala evening. This one would have more of a charity focus. ****Note that last week the incorrect date was listed as April 24.  Please forgive this error.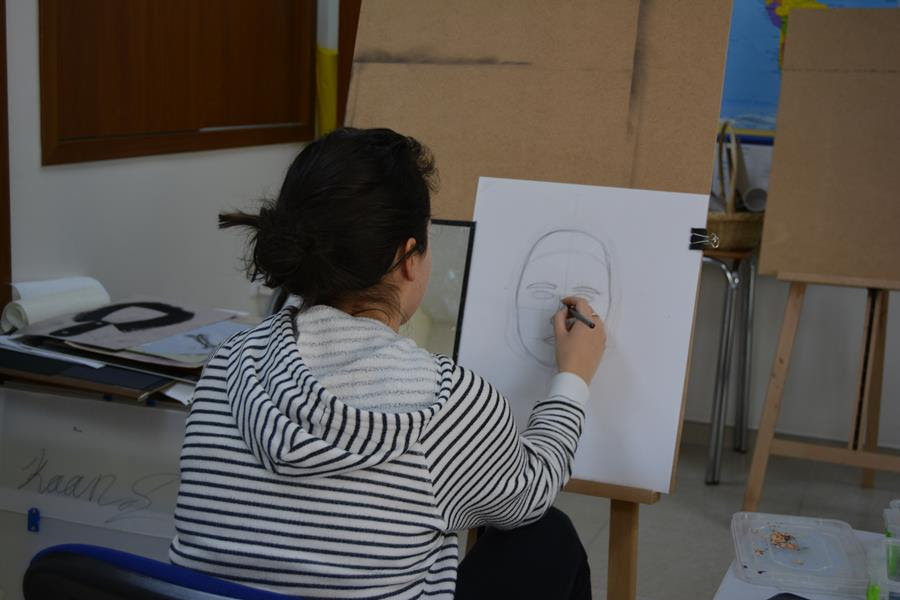 "Self-Reflection Through Social Issues"
The Pre-AP Art students are working on an assignment entitled "Self-Reflection Through Social Issues", where they have to use mixed media to express their feelings and ideas on a matter important to them. The first step in the project is a self-portrait, which posed some challenge to the young artists. The final results, however, are really encouraging!
Call for Ideas
As a school philosophy  we are always looking for ways and ideas to improve our activities program. In the past we have had a great collaboration with parents that have offered different activities and enriched our program. This is a call for all of you who would like to suggest or  offer an activity for  the 3rd Round of activities.
Please email your suggestion and ideas to  blerta-sadiku@alb.qsi.org. 
Animal and plant life cycles
This week in Science the 8 year old class are learning about animal and plant life cycles. Following the steps in the scientific method, they conducted an experiment and made predictions on what will happen to their seeds. The students planted seeds in a ziploc bag and hung them in the classroom window..... stay tuned for future results! 
Math Week!
Math Week is just around the corner, starting Monday, February 12th. Throughout the week there will be daily math challenge problems in students' math classes, and on Friday we will celebrate the 100th day of school. The week will culminate with a Math Carnival in the gym with the whole school participating in math games together. 
As a school we will be raising money to support a local Roma community center called House of Hope. This center provides supplies, education, and hope for people in need. Students are encouraged to bring in 100 leke coins to the cafeteria all next week to support this great cause. 
The 100th day of school is also a chance to get creative. Students can create a project out of 100 items and bring it to Ms. Eva in the library next week. Older students can choose to create a poster showing different ways to express 100. Participants will earn a prize and will have their work on display in the cafeteria.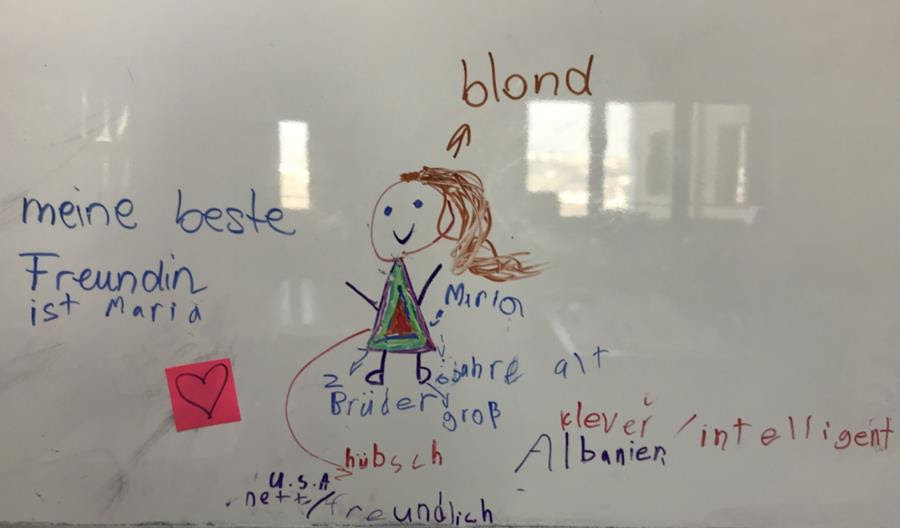 German Class
In German class we are learning to describe our best friends. It was very fun to make posters! And to show Maria how much we like her, we made this drawing on the board. We have so many good things to say about Maria. She is kind, friendly, beautiful...How are your friends? Are they also freundlich, nett, schlau like Maria?
Encyclopedia Research
Encyclopedias are a great place to start to find information about a topic you know nothing about. Eight-year-old students used print encyclopedias to learn facts about a topic of their interest. They have learned to differentiate between reference materials and choose the best resource to use.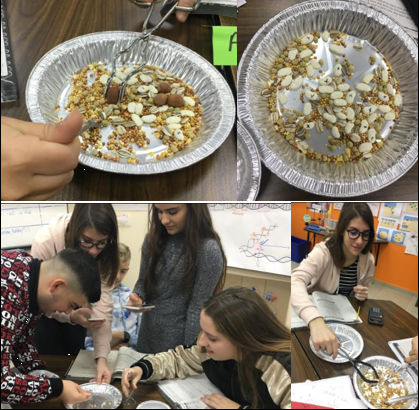 Natural Selection in Action.
Biology students are studying the theory of natural selection in the Galapagos Island and what Darwin was observing when he studied Finches morphology and behavior. Students were given the task to choose a laboratory tool that would represent a bird's beak and they were going to use it to feed on the different seeds while competing with each other. Individuals that were not successful were going extinct showing natural selection in action.  
World War II and the Holocaust
Students in World History will soon be studying World War II and the Holocaust. A great opportunity arose this week to get a head start on our study. In recognition of Holocaust Remembrance Day, the Israeli Embassy presented a brief exhibit at TIS. The content focused on diplomats from around the world who risked their lives to save and protect the Jewish people. Students were able to spend some time reading and learning about some of these individuals and why their efforts were so important. We look forward to studying this period and learning more about the stories of hope and redemption found amid the atrocities of the Holocaust.
11YO Literacy
The 11YO Literacy class has begun a novel study of The Watsons Go to Birmingham--1963.  This novel is helping students learn about the internal conflicts of a family and the external conflict of the segregated south of the US during the 1960s.  It is written with humor as well, and the students are easily identifying with the sibling conflict that is the heart of the beginning of the book.
Ladybugs
The preschool playground has a new and awesome climbing structure. While climbing on "rainbow mountain" preschoolers develop muscle strength, balance, coordination and body awareness. The children have also gained confidence as they figure out how to get up and down the structure independently.
Our Opinions Matter
In writing, the students have participated in class discussions about writing facts and opinions.  They have heard songs and watched videos to learn how to differentiate between a fact and an opinion.  One of their favorite activities was working in pairs to write a fact and an opinion about a picture handed to them.  They felt so proud standing up in front of their peers and sharing their collaborative work.
Intensive English and Plants
The Intensive English class has just finished a unit about plants. They learned about parts of a plant, their function and the life cycle of a plant. Most plants come from seeds, so the students wanted to learn how long it takes a seed to start to grow. They put some seeds in a bowl, added some cotton and water. Students checked the seeds every day to see when they germinated. They noticed that all the seeds would germinate and grow at different times.