Tirana International School
May 16, 2018
Important Dates
May
7-18 - AP Testing (good luck students!)
14-31 - Student MAP Testing
25 - International Night
25-26 - Balkan Art Festival 
June
1-2 - Musical Aladdin 
2 - SAT
8 - End of 3rd Round of After School Activities
16 - Graduation 
22 - Last Day of School (1/2 Day)
Director's Desk
Dear Parents and Friends of TIS,
Next year TIS will have several new teachers join the faculty as we continue to provide expanded opportunities for your children to learn and grow.  Please take some time to read through their introductions in order to learn more about them and their backgrounds.  In August, we will have another open doors day for families to get to know these teachers and to welcome back the returning staff.  
On the topic of change, we want to confirm that several classes will be splitting next year as we try to maintain smaller groupings.  This also means that room assignments will change, so expect to see some fun changes over the summer as we have, for the very first time, two sections of the same grade!  It is an exciting time for the school and we can't wait to unveil our plans.
Finally, on Thursday each student will receive a TIS school T-shirt.  Please make sure that on Friday that your child wears this shirt as we will have a group photo, which will be shared out that evening with all parents.  Thank you for showing your school spirit all year and especially this Friday!
Looking Forward,
Robert S. Jackson, Director
Albanian History
To further their study of Albanian history, World History students visited Bunk'art on a field trip. The materials exhibited, in this communist era fallout shelter turned museum, include photos, artifacts, and documents dating from the Italian invasion of Albania in 1939. Students described the bunker as being "unique", "claustrophobic", and "very interesting". This trip gave students a taste of the fear and paranoia that persisted throughout the reign of Enver Hoxha.
Novel Study
The 8 year old students are enjoying their novel study of The Chameleon Wore Chartreuse and Fantastic Mr. Fox. They are using strategies learned throughout the year to make connections and comprehend the novels. Reading together, the students are discussing various elements of story, as well as enjoying the humor of both authors. Upon completing the novel studies, the students will compose a short skit or play.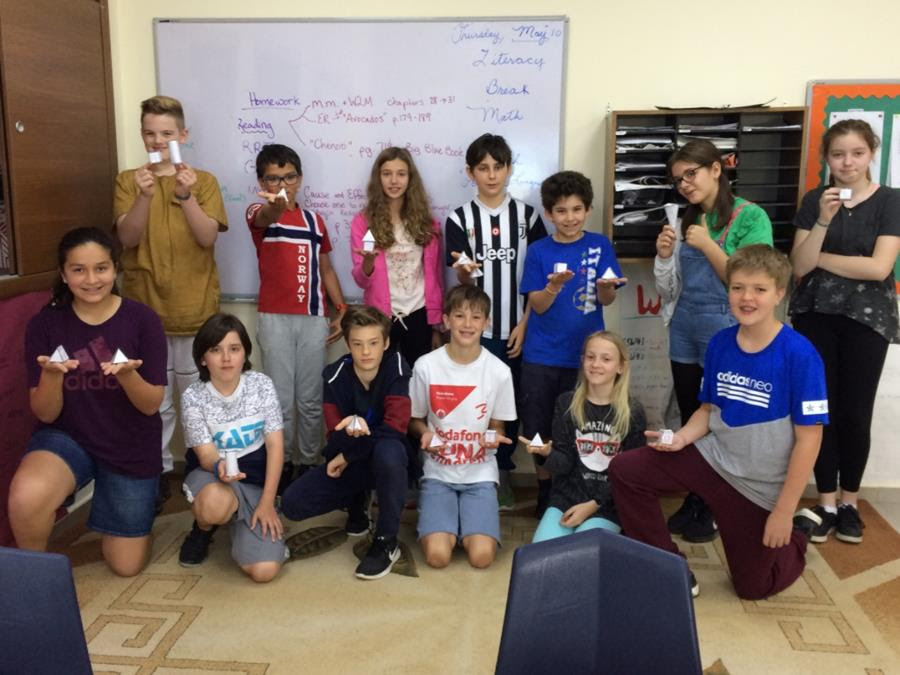 Geometry and three dimensional figures 
In 11 Year Old math we have been studying measurement and geometry. To help students understand volume and surface area, we used nets to make paper three dimensional figures. The activity helped students visualize and understand the three dimensional figures. They also had fun!
AP Exams
Students in AP Art History, as in many other AP subjects, have recently taken their exam. Each AP exam lasts around three hours and is a culmination of an intense work throughout the year. Congratulations to all AP students for their efforts and achievements!
Clothing Drive sponsored by Student Council
21 May - 1 June
Benefiting Fundjave Ndryshe "A Different Weekend"
Please drop off your gently used clothes in the box in the first floor entrance
Author Study
In Library class, 10-year-old students have been researching about their favorite author and completed a presentation using the facts they learned. Additionally, they will be reading a book from the selected author and will create a bookmark with illustrations based on the story.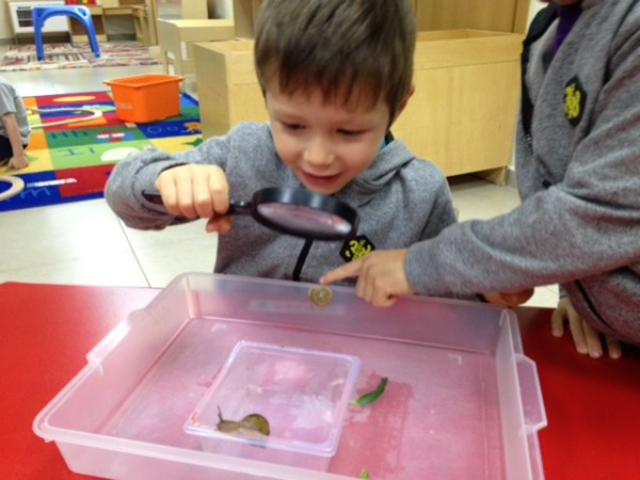 Ladybugs and Snails  
In the Ladybugs class, we love to examine creatures we find outside such as beetles, spiders and worms. After the heavy rains we found snails outside. We learned that snails live in a shell and they have really amazing antennae.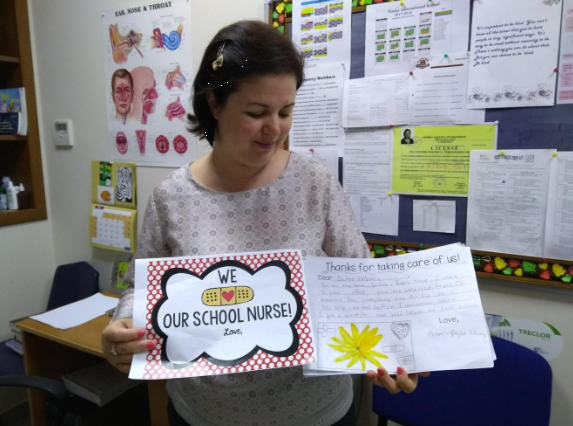 National School Nurse Day
Did you know that National School Nurse Day was on May 9? Intensive English students wrote thank you letters to express their appreciation to our kind and dedicated school doctor. Thank you Mrs. Valbona for everything you do!
Describing the City
This unit in German 2 war particularly interesting. We have been learning to describe different places in the city. Also we practiced asking and giving directions. If you want to know the coolest places to have fun in Tirana, just ask us. We are experts on that too.  
Snails Life Cycle 
The Fives also have several new class pets. The kids are now the proud owners of snails, which will be the subject of study for the next several weeks. In this unit, the Fives are going to be observing their snails each day while tracking their eating habits, movements, and other quirky snail characteristics. So far they have studied the anatomy of their snails and have been comparing and contrasting their tiny friends to themselves. Soon they will be studying the snail's life cycle, along with shell designs and sworn enemies of these slimy creatures.
Transportation 
Due to a change in the Albanian legislation regarding transportation, Tirana International School will be taking over the transportation service starting from the upcoming academic year 2018-2019.
As a school we are looking forward to continuing the excellent service that Proton has provided to our community and students. If you are planning for your child/children to use the TIS transportation service please read Bus pricing and Information form and fill out the Registration form here. We apologize if you have already filled out the registration form  for next year, but the change in service providers is forcing us to start the process from the beginning. Note that we will revert the pricing structure to what it was in previous years.  
Summer Camp 2018
The TIS  Summer Camp 2018 will be a fantastic place where your child will enjoy the fun and educational activity program , which will focus on a weekly theme and followed by a  weekly field trip outside the campus. This is a great environment to learn , develop social skills and most important have fun  during the hot summer days. TIS Summer camp will be offered to students  2-11 years old, stating at 9:00 am- 3:00 pm and healthy lunch included .For more information regarding the program and registration  please visit our activities website