Tirana International School
March 15, 2018
Important Dates
March
19 - 3rd Term Activities Begin
22 - Student Led Conferences - No School for students.
29 - Elementary Choir Festival
30 - Term III Tuition Payment is Due
April
2 - Easter Monday - No School
4-6 - AP Mock Exams
12-15 - MS Soccer in Sarajevo
14 - School Wide Planning Event
21 - TIS Charity Gala
Director's Desk
Dear Parents and Friends of TIS,
Next week we will hold our annual student led conferences on March 22.  This is a wonderful opportunity for you, along with your child's teachers, to hear about how the academic year is progressing from the viewpoint of the student.  Last year's conferences were met with an overwhelming positive response and we believe that this year will be even better as students are more experienced in the process.  As a reminder, there will be no regular school on the 22nd as the conferences are scheduled from 8:00 - 4:00 for the teachers.  We look forward to seeing you next Thursday for this special event!     
Looking Forward,
Robert S. Jackson, Director
PS  Enjoy some photos from last year...
The Power of Water
Water is a powerful renewable resource. Last the 9 year old class visited Devoll Hydropower Plant in Banja dam. They were shocked to see how electricity is made by gigantic generators that are pushed by tons and tons of water. The highlight of the trip was walking on top of a wall that blocks the river coming all the way from Greece.  
Parent Emails Through Tismail.org
To families of TIS,
We are announcing a new service provided to TIS families. You will receive a tismail.orgemail account. This email account is a collection of Google apps for education, specifically designed with productivity in mind. The apps included are Gmail, Google Drive, Google Docs, Google Sheets and Slides. The primary reason for providing these tools to the TIS community is to:  Increase communication between students, faculty and parents, as well as make sure parents have a secure centralized and secure way to access their children's data.This account will be used to access our internal documentation such as status reports, student pictures, narratives and access to our Virtual Learning Environment for select classes- Google Classroom.
An example email is as follows: lastname-family@tismail.org (Please click on this link to see how to login to gmail) 
For security purposes we will set the shared documents as view-only by default.  If you would like to download any materials please send an email to registrar@alb.qsi.org. During Student Led Conferences next week you will be receiving an email to inform you how to access the TIS email and a paper slip with login instructions. If you have any  questions or concerns please let us know.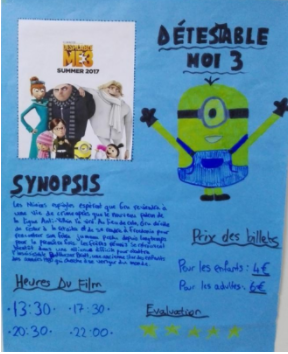 Entertainment
As we continue in our exploration of the French language, students are learning to describe and discuss various forms of entertainment. Students are learning to talk about their favorite movies and to extend, accept, and turn down invitations.
We continue to focus on authentic culture of France and the French- speaking world, with a particular highlight in this unit of the free-time activities of French young people and the places they like to go.
Albanian Writers
In Albanian language,the students are learning about famous Albanian writers especially from Renaissance period.They read about them and learned by heart a few of their poems.It was so exciting and fun. This was a wonderful experience for them to get to know some of the most famous Albanian writers.
Research Writing 
The 12 YO Writing class recently completed a unit on research writing. Students chose topics related to Ancient Greece and began the research process by developing guiding research questions. Then, they gathered relevant information from multiple sources, while assessing sources for credibility and historical accuracy. In the drafting process, they practiced integrating citations using proper MLA format. They participated in multiple peer reviews to support each other in revising and editing their essays. Lastly, they presented their research findings in oral presentations to the class. These 12 YO researchers are now experts on the Ancient Greek Olympics, battle tactics and weaponry, philosophy, art, science, politics, shipbuilding and more!    
Short Sentences
Spanish elementary Students had fun learning how to use the Reflexive Pronouns to conjugate Reflexive Verbs and create short sentences in Spanish.
Idioms
In Literature, the 11 YO's have been studying idioms.  These are sayings that are common phrases that do not mean exactly what their words say, such as "hot potato," and "not playing with a full deck."  Students enjoyed learning idioms and figuring out what they meant.  We also discussed how idioms in one language do not translate well into another language and that all languages have their own idioms.  We created a poster full of English idioms.
Connecting Fresh Food with Urban Buyers
Desha, Julia, Sindi, Sophie and Maiwenn are participating in the Technovation Challenge, an all-girls, global app-creating competition. They aim to connect local farmers with urban buyers through a user-friendly interface, making healthy, affordable, local-grown produce accessible to all. We would like to asses the interest within the community and hear your opinions.  Please take five minutes to submit your constructive feedback.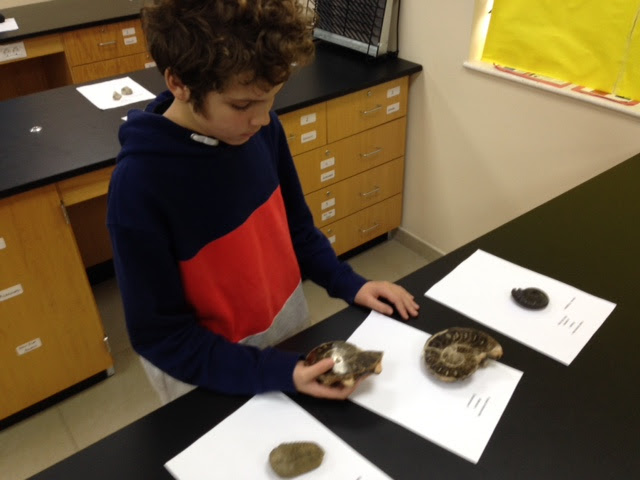 Fossils
In Earth Science, 12 and 13 year old students are exploring Earth's past. Reuben Ndisi examines ammonite and trilobite fossils that are the remains of organisms that lived hundreds of millions of years ago.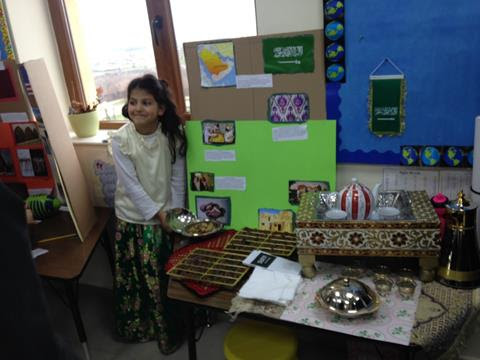 Recently the 6 year old class presented their storyboards about their home country to their parents.  The students worked hard to research their home country and to create displays and brochures using facts about their home countries to distribute during their oral presentations.  
The students also presented their dodecahedrons and Picasso artwork related to their unit of study in Geometry, and  presented their research on the country of  Egypt including scarab beetles, pyramids, hieroglyphics, funeral urns called canopic jars,Egyptian cat artwork and a mummy in a sarcophagus.  
After the presentations, the parents served a feast to all attendants bringing traditional food from home countries to share with all.  
Thank you to all of the members of the 6 year old class, Mrs. Vernon, Ms. Eliona, and Ms. Eri, as well as to all of the parents for making this a very memorable event.