Tirana International School
January 31, 2018
Important Dates
January
31 - CEESA MS Choir Travels to Bulgaria
February 
1 - CEESA HS  Knowledge Bowl Travels to Belgrade
7 - Open House for New Families - 5:30-7:00 pm
7 - Success Orientation Program on Trustworthiness
8 - CEESA HS Robotics Travels to Bucharest 
12-16 - Math Week
16 - 100 Days of School Celebration
19-23 - Mid-Winter Break - No School
Director's Desk
Dear Parents and Students,
Over the last week it has come to our attention that one of the virtual walls around our internal email accounts for students - tismail.org - was removed in the spring of last year.  At that time, an email was mistakenly sent out from the LinkedIn (a professional networking site) account of our IT staff member, as an invitation to students to join this social networking site. This invitation allowed some students to sign up for social media accounts through their school email accounts.  In our research into the depth of this problem, we have only seen LinkedIn and Pinterest accounts.  Our child protection team has found no evidence of adults targeting or pressuring students to join these sites, beyond the initial email.  Since the discovery, our internal wall has been restored and all social media sites are blocked through the school email server.  We have been in contact with LinkedIn about disabling all accounts from tismail.org as these belong to students, not professionals.  In addition, each technology class has received a special lesson on this problem, so as to be aware of how to identify and delete unwanted invitations to join social media.  We apologize for the lapse in security and invite you to communicate with our technology department and leadership if you have concerns about social media and the school email system.  
About the TIS Technology Curriculum:  Tirana International School has well structured Digital Citizenship curriculum and fully implements the I-Safe curriculum, which complies with and exceeds the CIPA, COPPA and FERPA regulations. The QSI Technology curriculum has a Digital Citizenship Unit for students aged 5 to Secondary. In the class we discuss the QSI Acceptable Use Policy at the beginning of each academic year.
Besnik Zylka, Technology Coordinator
Robert S. Jackson, Director
Student Enrollment Intention Form

As we plan for the 2018-2019 school year, we need to have a fairly accurate estimate of the enrollment to help us plan for needed materials and staffing.  You can help in this process by filling out the intention form below and letting us know if you will return next year.   If you are not sure, then please indicate that on the form and we will follow up with you at a later date.
Gala Event - April 24th
Dear Parents,

Last year TIS organized an amazing event to celebrate the 25th anniversary of our school. We would like to know if you would want to repeat it and have another gala evening. This one would have more of a charity focus.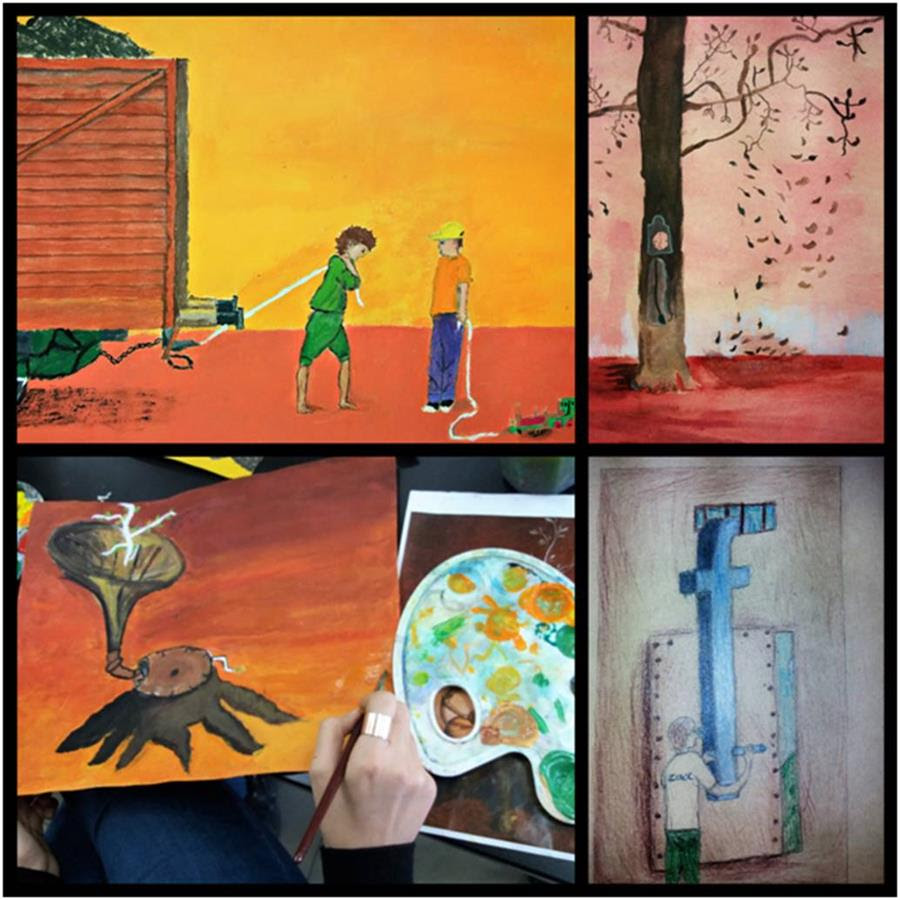 Middle School Artists 
The middle school artists have been introduced to Pawel Kuczynski, a Polish artist that specializes in satirical illustration. Much of his artwork deals with serious themes such as poverty, greed, politics and social media. The students have learned to apply his illustrative style by creating thought-provoking artwork that comment on issues that are important to them. The subject matter is stark, and sometimes cartoonish, which gives a great contrast and makes their work interesting to analyze. 
IE class writing
Intensive English students have really enjoyed writing Explanatory Essays. They had to choose a topic to write about, search some new information about it and then start their drafts. The revising part was their favorite as they read each other's work and suggested improvements. A lot of good feedback was happily received by all!
Swinging into Action
Earlier this year, the 7 year old class wrote persuasive essays sharing their opinions about changes they'd like to see at our school. This sparked the idea of adding swings to our school's playground. Since then, students have worked hard passing out surveys, creating models of swing sets, and even coming up with rules for the proper use of the swings. Now the swings have finally arrived, and the 7 year old class can enjoy the result of all their efforts. 
Advanced Placement Course
Tirana International school for the first time is offering the Advanced Placement course called Computer Science Principles. This course offers students a multidisciplinary approach to teaching the underlying principles of computation. The course will introduce students to the creative aspects of programming, abstractions, algorithms, large data sets, the Internet, cyber security concerns, and computing impacts. Currently the students are working on identifying and writing about the Explore Performance Task. The steps they need to take to create this computational artifact are as follows; Identify a computing innovation, state its intended purpose and function, identify at least one beneficial and one harmful effect of the computing innovation. Identify the data that the computing innovation uses and explain how it is transformed.
AP Study Groups
Despite AP examinations beginning in May, many students are already preparing by setting up AP study groups during Learning Lab. This is a perfect time for students to collaborate and revise for examinations. 
Call for Ideas
As a school philosophy  we are always looking for ways and ideas to improve our activities program , so it is fun and challenging for our students. In the past we have had a great collaboration with parents that have offered different activities and enriched our program. This is a call for all of you who would like to suggest or  offer an activity for  the 3rd Round ASA.
Please email your suggestion and ideas to  blerta-sadiku@alb.qsi.org. 
Our new addition in the school, Ms. Jill Noble. 
Greetings TIS!  I'm excited to join the 6 Year Old Class, filling in while Mrs. Vernon is having her new baby. I have been a first grade or 6 year old teacher for many years, both in Idaho, in the U.S.A. and in Baku, Azerbaijan, as I taught the 6 year old class last year at Baku International School, a QSI school.  I have also lived in Kosovo for 7 years, both in Prishtina and in the smaller city of Suhareka (Theranda), near Prizren.  I have two daughters, Jenna and Alyssa.  Jenna is in her third year of university studying BioMedical Engineering at Hofstra University on Long Island in New York.  Alyssa graduated from Baku International School last year and is in her first year at Rennssalear Polytechnic Institute near Albany, New York, studying Physics.  I have a cat named Petunia whom I found abandoned as a small kitten in the subway in Baku and brought her to New York with me. In my free time I like going to concerts, reading, shopping, and exploring and traveling wherever I am in the world. The county of New York in which I'm living right now has over 150 waterfalls and I have enjoyed discovering many of them and hiking this past summer and fall.  I am delighted to be with the 6 year old class because I love teaching reading.  I will see you all on February 26.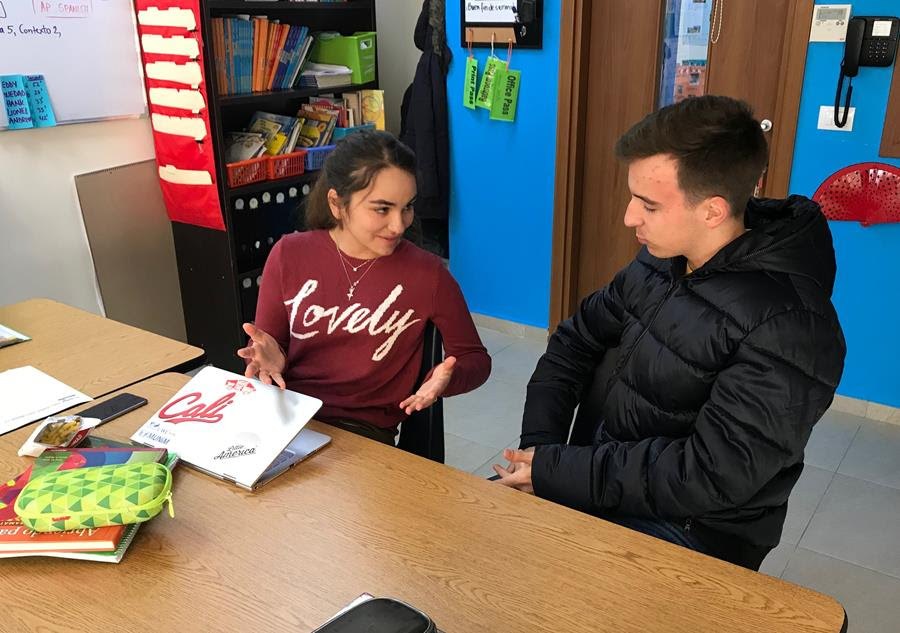 Spanish and Human Dignity
Spanish IV is a challenging course. All the units are conducted in Spanish. Their last unit was about human dignity. The students discussed about crimes in a community and had a debate about the "right to bear arms". They also discussed and debated about the death penalty in Spanish-speaking countries. At the end of the unit they wrote a report on an interesting case about someone who was sentenced to death penalty.
Living Organisms
The 10 Year Old Class has just finished a unit in Science about how living organisms are classified. They investigated what characteristics organisms share and what makes living organisms very different. Students also had an opportunity to use a microscope to observe plant and animal cells. What similarities and differences were they able to identify? Ask a member of the 10YOC!